Retailer Profile: Spokes of Bagshot
Retailer Profile: Spokes of Bagshot
Posted on 13 Dec 2022
We are starting a series of Retailer Profiles, shining a light on some of our best and most interesting independent retailers. If you would like us to consider your shop for inclusion, please drop us a line telling us a little bit about yourselves. First up, Spokes of Bagshot.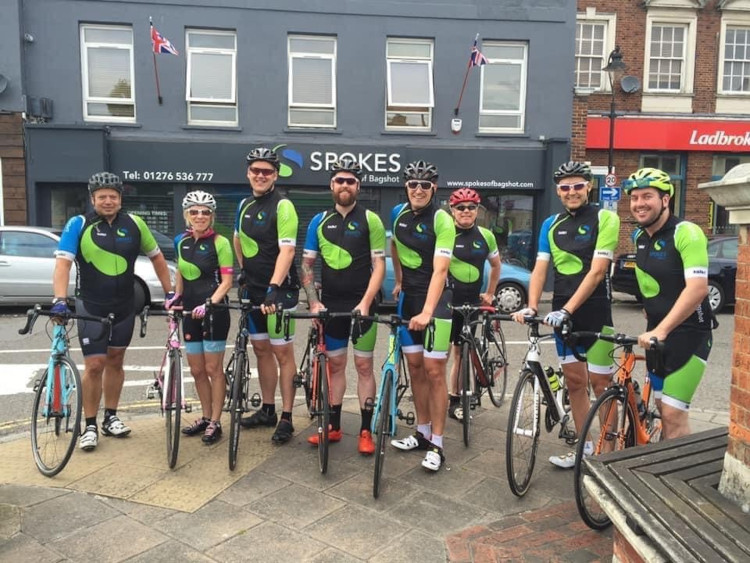 MD James Thompson says:
"Spokes opened its doors in March 2015, after a few months of hard graft behind the scenes. I had worked for a well-known independent shop for 11 years and then had a "Dragons' Den" style opportunity with a successful friend of mine, who became a great mentor and business partner and we formed Spokes!
My background is years of competitive downhill mountain bike racing as a younger and braver man, to eventually doing an Ironman triathlon when I was 30. I have a real passion for cycling and have got so much from it over the years, which is something I am keen to pass on to our customers, who have become our friends.
We have a great team at Spokes, we are a family! We are very community focused and love seeing people get hooked on cycling and progress, no matter what their ability, age or level, its just fantastic to see others get so much enjoyment and benefit from the activity that has given us so much.
We have grown into one of the UK's top independent bike shops, and deal with some major brands, such as Giant & Liv, Wilier, Whyte, Mondraker and many more. We have gone on to win some industry and national business awards. "
How has your retail landscape changed over the last couple of years - what are you doing differently now?
The last two years have been a real rollercoaster ride. Covid was the biggest opportunity our industry has ever had and has made cycling a normal part of people's lives. The demand on the industry created some huge challenges. At one point, we had people forming a socially distant queue down the street to come and buy bikes!
We took a lot of risk, expanded our brand portfolio and kept buying all the way through the pandemic. We took on a warehouse, we finally invested in our e-commerce site, and geared up.
The flip side of this has been cash flow challenges, bigger tax bills and a tightening market with the cost-of-living challenges now.
Have customer needs, wants and/or expectations changed - if so, how?
Customers have exercised a huge amount of patience during Covid, with some people waiting up to a year for some top end bikes! People's shopping habits have changed, with an increased shift to online retail, so I'm very glad we have moved to this. It's still early days for Spokes Online, and we have learned a lot about what works and what doesn't, constantly trying to second guess the constantly shifting market.
With the more recent cost of living increases, trade has become more challenging, with people less willing to spend larger amounts on non-essential purchases. We have recognised a massive opportunity with both Finance and Cyclescheme, as a way for people to spread the cost (and save on the tax on the scheme), so this is something we are pushing hard.
What is most effective for you as a way of promoting the business?
In terms of marketing, the most effective way is word of mouth. Nothing beats a referral; the trust is already built, and it has been the best way to grow the business locally. As we target a slightly bigger regional audience, event sponsorship is a good way to go, especially when we can directly interact with potential new customers. We have sponsored a "Santa Dash", where there were 1000 runners dressed as Santa and we were there to show them some bikes and promote Spokes!
If people want to find you online and on social media, how would they do so?
We have a good following on Facebook and Instagram. We are doing some new video marketing campaigns on YouTube, LinkedIn and TikTok, so watch this space!
https://www.facebook.com/spokesbagshot
https://www.instagram.com/spokesofbagshot/